'Night at the Waskers' Game Synopsis
9 - 11 Guests
Wasker night is an evening filled with glitz and glamour; a time to celebrate the accomplishments of fellow actors and actresses with the coveted Wasker award. After the awards are handed out, the industry hits the party scene. And no party is more prestigious than the bash held at Oakley Stewart's mansion. This year, however, something goes terribly wrong.

Ashley Canne, who hours ago won Best Lead Actress, has been found dead. The guests are not trained detectives, but fortunately, many have played one on television. Cops? Who needs them! This group of celebrities and wannabees will solve the mystery themselves.

This murder mystery game is perfect for older teens and adults who want to dress up and enjoy an evening of exciting, clean-cut fun.



>> Characters
>> Sample Game Materials
>> Party Theme for This Game


Register for this Game
Registration is free, but you will need to purchase to see the materials:

Contents
Host Instructions
Guest Instructions
Character Descriptions
Character Motives
Game Clues
Print-able Invitations
Email-able Invitations
Invitation Tracking
Name Tags
Pre-Game Clues
Suggested Recipes
Tips from Other Hosts
Bulk Emailing Tools
Scripts (Large Group Games Only)
Cast Materials (Large Group Games Only)
Team-Building Features (Available only in Team Building version)
Facilitator's Instructions
Team Assignments Tools
Team Building Activities
Table Tents
Team Building Tips and Suggestions
Questionnaires and Team Review Tools
Awards
Murder Mystery Reviews
What a hoot! Lots of fun, and everyone really got into the spirit of the event! Highly recommend it!
Gav a. - Melbourne, Australia
Friday, April 22, 2011

it was fun but short i wish it was longer but it was still super fun :)
Melissa C. - california
Sunday, January 31, 2010

I had soooooooooooooo much fun ... this has been one of the most exciting and fun parties i've ever been to!
Geneva P.
Sunday, July 27, 2008

This was a great party! This was my sweet 16, and we all had a blast! Everyone dressed there part. I was surprised at how well everyone got into it. This was my first mystery party, and it turned out very well. Though, I did not realize how much organization it needed. I would definitly recommend "Night At the Waskers" to anyone!
Corey M.
Wednesday, June 25, 2008

This was the BEST party ever!!! I can't wait until next time.:-)
Jason R. - Middletown, DE
Saturday, April 26, 2008

The party was a big hit! The guests hit the red carpet already in character and it was no trouble staying in character all evening! I don't remember when I've had so much fun. We want to make the murder mystery an annual event now. One of our guests, Claire Centennial, took the role of gossip columnist seriously and the next day emailed everyone her column about the event and it amazing! I think we're having a hard time coming down to earth for our "real life" roles.
John R. - Ocala, Florida
Wednesday, February 20, 2008

This was a Hollywood Murder Mystery Birthday Party for my 15-year-old daughter and her friends. They all had a blast and enjoyed every moment of the party! The guests said it was the best party ever and they would love to play again. We will definitely do this again!
Laura P. - Meridian, ID
Wednesday, February 06, 2008

I had a group of friends who didn't know each other well. Playing the game provided a way to break up a series of generic get-to-know you questions. They all were excited about the party before hand and left even more excited, many saying that they would play again. My guests did a lot of ad libbing and definately drove the plot forward, having props and clues prepared in envelopes sure made my job easier. I would recommend playing this game again. I'm going to be doing another soon based on their requests!
Jessica A.
Tuesday, October 30, 2007

Be organized ahead of the party. It really helps. THIS GAME ROCKS!!!!!!!!!!!!!!!!
Paige S.
Wednesday, June 20, 2007

My friends really enjoyed getting glammed up for this mystery party. Also, it is very easy to find Hollywood-themed decorations in any party supply store. It was fun, and all the characters definitely had character!
Mahalia B. - Wilson,NC
Tuesday, March 13, 2007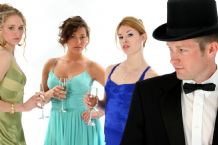 Game Information
Game Categories